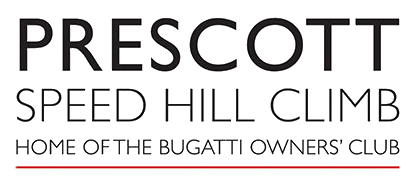 The Prescott Estate, approximately sixty acres, is tucked away amidst the still quite unspoiled Cotswold countryside some six miles north-east of Cheltenham. Here visitors can view the green hills around or watch competing cars from a number of advantageous points all in a spacious 'confine'. The present 1127 yard course, rises some 200 feet via short straights, fast and slow corners including a hairpin at 'Pardon' and all this is now achieved by the fastest modern racing cars in a little over 36 seconds.
The Bugatti Owners Club purchased the estate in 1937 and commenced converting the muddy, rutted drive into a speed hill climb ready for the Opening Rally in April 1938, when the then President of the Club, Earl Howe, opened proceedings by driving his type 57 Bugatti up the Hill.
The first Prescott Hill Climb took place in May 1939 which was won by Arthur Baron in a 2.3 litre grand prix Bugatti. During the 2nd World War, the House was requisitioned by the military and eventually handed back to the Club in 1945. Immediately the post-war a wide variety of events have continued to be run through to the present day. Many famous motor racing drivers have competed here. Sir Stirling Moss started his racing career at Prescott driving a 500cc Cooper JAP.