Chemin de Fer à Vapeur des 3 Vallées
The "Chemin de Fer à Vapeur des 3 Vallées" is one of the nicest Museum lines in Europe. Go back in time on board a real steam train and travel through the "Three Valleys" with their amazing landscapes.
Leaving from Mariembourg the train goes near the picturesque villages of Nismes, Olloy/Viroin and Vierves, before reaching Treignes, the terminus and also the last station before the French border. In Treignes, you have the opportunity to visit the railway museum. Well worth a visit.
International Steam Festival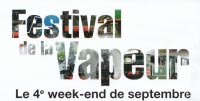 The 4th week-end of September
Lots of "trainlovers" come to Mariembourg to see Belgium's most important rail festival.
On both days, ten steam locomotives pulling period carriages are on duty. Moreover, you discover a small steam train for children, farm machinery, miniture trains and a repair room for the engines.