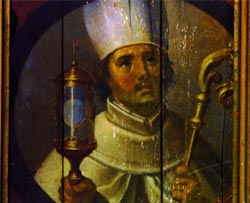 Notre-Dame de Leffé is an abbey of Premonstratensian canons. The Premonstratensian Order was founded by Saint Norbert in 1121. Born into a noble family and following a vocation towards priesthood, he shared his worldly possessions with the poor. As an errant preacher appointed by the Pope, Norbert arrived in France and settled in the so-called ''Presmontré'' area in Picardy between Laon and Soissons. The Bishop of Laon accorded him the land to create an abbey. Saint Norbert then stopped in Namur, near Dinant, close to the future Leffé Abbey. Count Godefroid welcomed him and proposed that he should found Floreffe Abbey in 1121. The Premonstratensian Order was confirmed by Pope Honorius II in 1126. In 1152, 30 years after the creation of Floreffe Abbey, Henry 'The Blind' Count of Namur gave the Sainte-Marie de Leffé church to the Premonstratensians together with its income and outbuildings. The foundation charter dates from 1152.
Pilgrims were always welcome at Leffé and in 1240 the canons decided to build a brewery for the preparation of a healthy, invigorating beverage (diseases like the plague ran rampant through the region at that time, and the boiling of water during the top fermentation process of the Leffé beer killed all germs).
The Leffé abbey in 1740, in its heyday: in the foreground we can see the mill with its half-timbered gable, using the
water of the Leffé river. In the background, facing each other, are two enemy fortresses: the Montorgueil tower and the castle of Crevecoeur. Each monk had a specific task and was entirely at the service of the parishes. A lay master brewer worked for the abbey and made a Leffé beer.
The abbey has been damaged by both natural and human circumstances over the years: it was destroyed by a flood in 1460, a fire swept through the settlement in 1466, billeted troops damaged the brewery in 1735, and the outbreak of the French Revolution in 1794 resulted in it being abandoned and the brewery destroyed. The canons returned in 1902 and the abbey was re-established in 1929 and reconstructed on the old farm grounds, as the beautiful 18th-century church had been destroyed.
In 1952 abbot Nys and Albert Lootvoet decided to once again take up the brewing tradition of Leffé with its well-guarded recipe and offer a range of Leffé beers. In the meantime, AB-InBev has taken up the torch and has made a commitment to honour the tradition of the Leffé beer, which has been brewed according to the same recipe since 1240.