National Motorcycle Museum - Solihull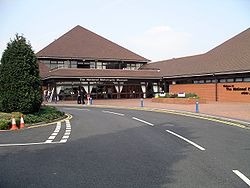 The Biggest & Best
Since opening, this magnificent centre has become the largest motorcycle museum in the world and attracts around 250,000 visitors a year. One of the biggest attractions for many guests is the comprehensive cross-section of machines, spanning the "60 Glorious Year" of motorcycle manufacturing in this country. The museum's aim is to preserve these pieces of history for future generations to come, as a reminder of this great nations industry, engineering prowess and work ethic. Within the five exhibition halls will be found some 650 plus machines, fully restored to the manufacturers original specifications.
Rising From The Flames...
On 16th September 2003 , the museum suffered a devastating fire, resulting in damage to 75% of the structure and some 400 machines. Due to the determination of ownership, staff and contractors, the museum doors re-opened on 1 st December 2004 . Today the museum is home to more than 650 machines.