Walt Disney World Florida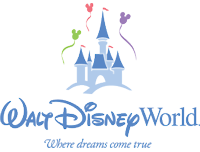 also known as Disney World, is the world's largest and most-visited recreational resort. Located approximately 21 miles (34 km) southwest of Orlando, Florida, United States, the resort covers an area of 30,080-acre (47.00 sq mi; 121.7 km2) and includes four theme parks, two water parks, 23 on-site themed resort hotels (excluding eight that are on-site, but not owned by the Walt Disney Company), including a campground, two health spas and physical fitness centers, and other recreational venues and entertainment. It opened on October 1, 1971 with only the Magic Kingdom theme park and has since added Epcot (October 1, 1982), Disney's Hollywood Studios (May 1, 1989) and Disney's Animal Kingdom (April 22, 1998).
The resort was inspired by the dreams of Walt Disney, who wanted a park on the East Coast to supplement Disneyland in California (Disney World's Magic Kingdom was designed similarly to Disneyland). However, Walt envisioned Disney World to be much different from Disneyland's one day visit. This included entertainment, uniquely-themed resort hotels, and a much wider variety of sports and recreational opportunities. In fact, Walt's original plans for the Florida property were far more ambitious: he also wanted to construct a real planned city of approximately 20,000 residents, the "Experimental Prototype Community of Tomorrow", which would serve as a test bed for city planning and organization. Walt died in 1966 before his vision was fully realized, and his plans for Disney World eventually evolved to what it is today.